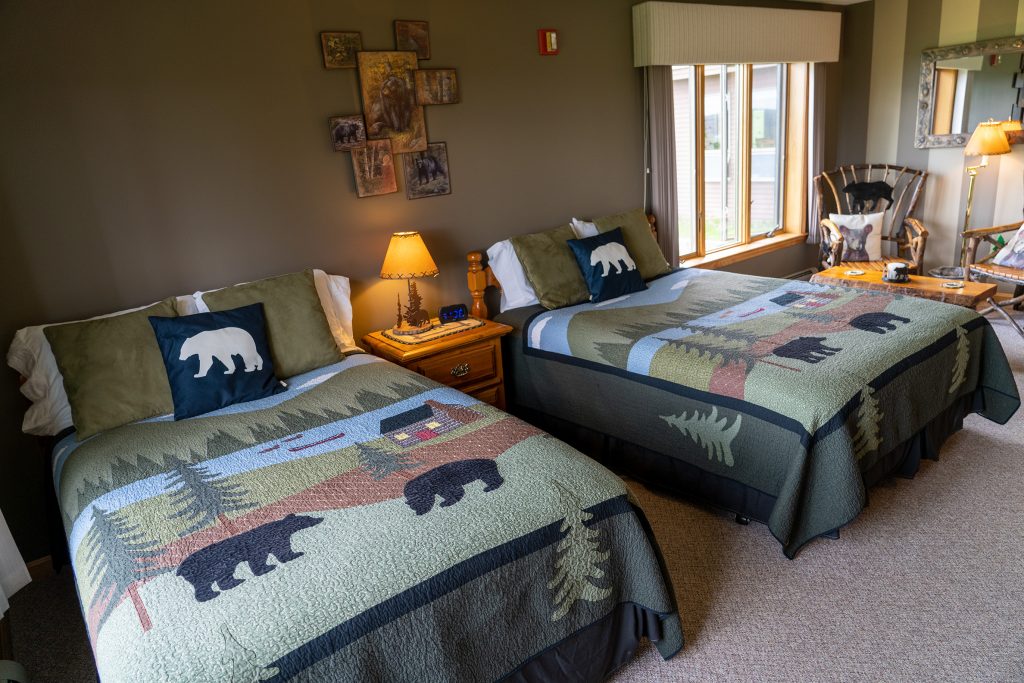 Welcome to the Bear Room
Embrace the spirit of the Maine wilderness in the Bear Room at First Settlers Lodge. This unique room, with its bear-themed décor, pays homage to the local fauna and immerses guests in the rustic charm that Maine is renowned for.
The Bear Room is furnished with a double bed and a queen-size bed, offering versatile sleeping arrangements to suit your needs. Each bed is comfortably outfitted to ensure a relaxing and restful stay after a day of Maine adventures.
One of the room's unique features is its captivating view. Across the field, you'll be able to see the waters of the East Grand Lake in the distance, a sight that evokes tranquility and underscores the room's connection to nature. Whether you're observing the morning's first light or the soft glow of the setting sun, the view offers a delightful visual treat.
Bear-themed decor throughout the room adds a playful and charming touch. It is a nod to our local wilderness and adds an element of whimsy to your stay. This unique theme sets the Bear Room apart and ensures a memorable experience for guests of all ages.
To ensure your comfort throughout the year, air conditioning is available in the room, so you can always create the ideal ambiance for relaxation and sleep.
The Bear Room at First Settlers Lodge is more than just a room; it's a celebration of Maine's wild beauty and a comfortable retreat for all our guests. We invite you to experience the comfort and charm that makes the Bear Room a favorite among our guests.