Welcome to the Lodge Room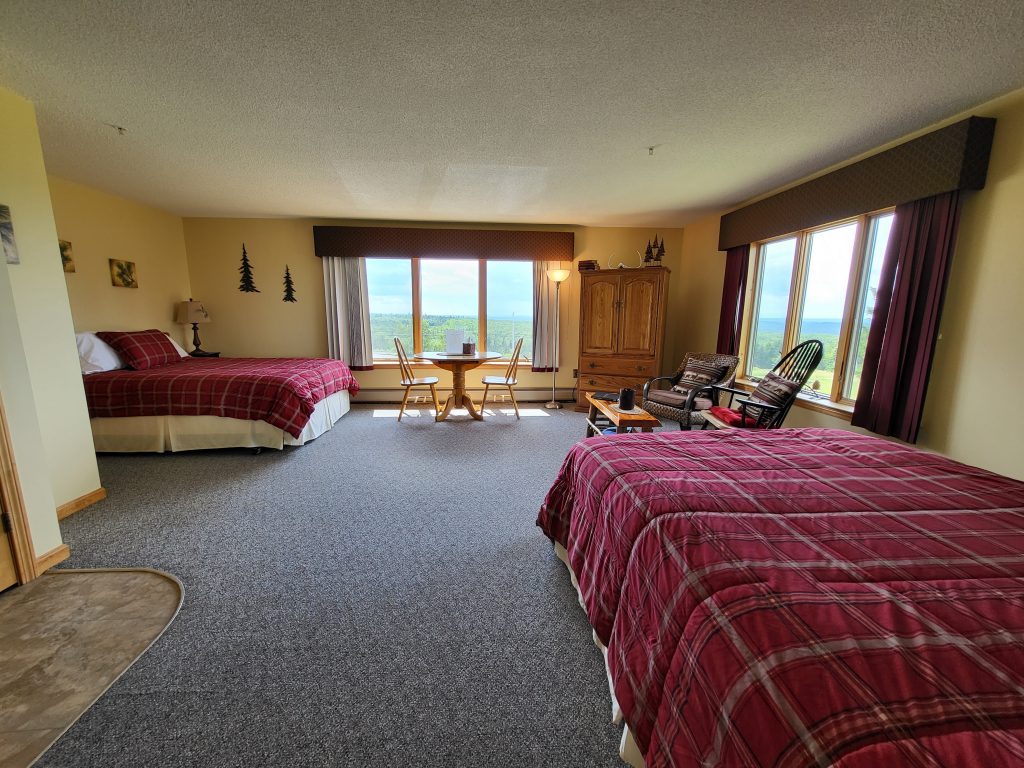 Experience the allure of rustic elegance in the Lodge Room at First Settlers Lodge. This room effortlessly combines the classic charm of a lodge with modern amenities and a stunning view, ensuring a truly memorable stay in the heart of Maine.
The Lodge Room is outfitted with a queen bed and a double bed, accommodating up to four guests comfortably. Both beds are adorned with plush bedding, promising restful nights in a serene setting.
One of the most delightful features of the Lodge Room is the breathtaking view it shares with the famed "Million Dollar View" scenic overlook. From your window, on clear days enjoy a view of the majestic Mt. Katahdin. It's an inspiring sight that infuses every moment of your stay with the grandeur of Maine's natural beauty.
The room's decor carries a distinct "lodge" theme, complete with tasteful furnishings that echo the rustic charm of a traditional Maine lodge. This theme brings a sense of warmth and comfort that resonates with the surrounding landscape, making your stay a truly immersive experience.
To ensure your comfort, the room is equipped with air conditioning, allowing you to create the perfect climate for relaxation and rest. Complimentary WiFi and a TV are also provided, keeping you connected and entertained during your stay.
The Lodge Room at First Settlers Lodge offers a unique blend of comfort, rustic charm, and panoramic views. It's a perfect retreat for those seeking to experience the tranquility and majesty of Maine. We invite you to come and create unforgettable memories with us.