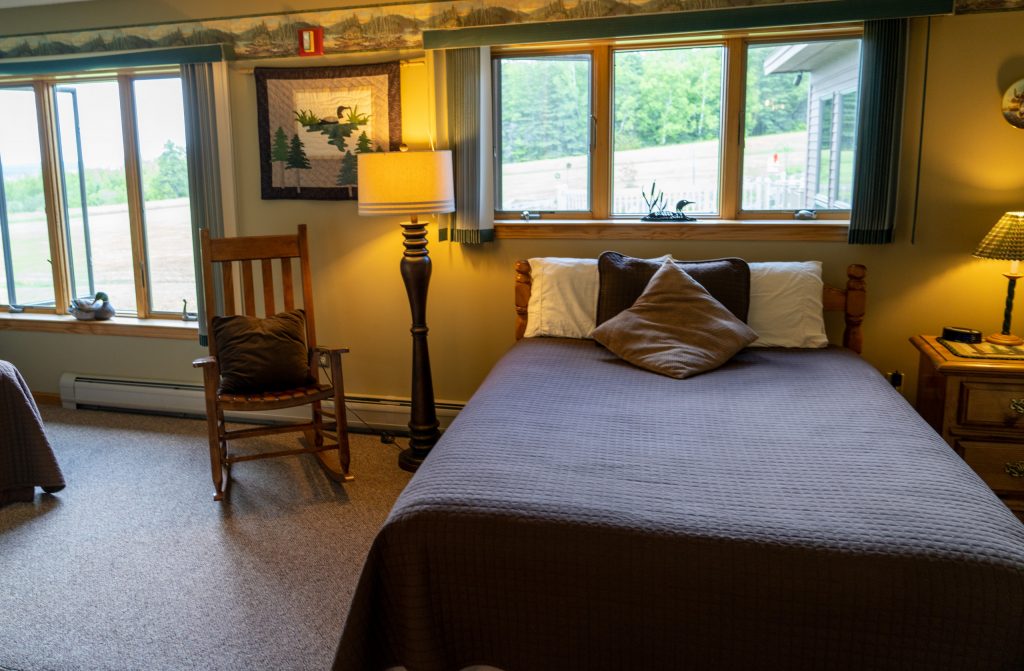 Welcome to the Bird Room
The Bird Room is a specially designed haven that marries accessibility with charm and comfort. This room offers a serene escape in the heart of nature.
The Bird Room is thoughtfully furnished with a queen bed and a twin bed, accommodating a range of sleeping needs with comfort at the forefront. The bedding is plush and inviting, ensuring a restful stay amidst the tranquility of the Lodge.
A standout feature of the Bird Room is the enchanting bird inlay tile that graces the bathroom sink area. This beautiful detail pays homage to the local aviary population, adding a touch of nature-inspired elegance to your daily routines.
The room offers a serene view of the open field that leads to a network of hiking trails. These trails guide you to the breathtaking East Grand Lake, a sight that will inspire and soothe in equal measure. Whether you're an early bird catching the sunrise or a night owl enjoying the peace of twilight, this view is a constant delight.
The Bird Room is our handicap-accessible option, designed with care to ensure that all guests can enjoy their stay comfortably. Ample space, accessible fixtures, and thoughtful design combine to create a welcoming environment for everyone.
Modern amenities like air conditioning and complimentary WiFi are included to ensure a comfortable and connected stay. Whether you're here to disconnect and unwind or stay updated on your devices, we've got you covered.
The Bird Room at First Settlers Lodge is more than a place to stay; it's an inclusive retreat that celebrates the diverse beauty of Maine's natural landscape. We invite you to make yourself at home and enjoy a memorable stay with us.